Bloomberg's bucks fund 'liberal mercenaries' in crusade against climate change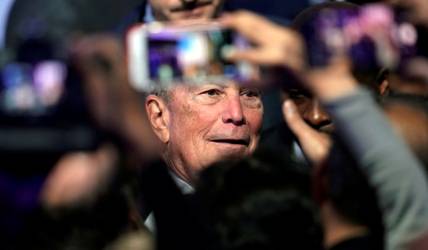 Democratic presidential candidate and former New York City Mayor Michael Bloomberg poses for photographs with supporters during his campaign launch of "Mike for Black America," at the Buffalo Soldiers National Museum, Thursday, Feb. 13, 2020, in Houston. (AP Photo/David J. Phillip)
By Valerie Richardson - The Washington Times - Saturday, February 15, 2020
Other Democratic presidential primary contenders may push the Green New Deal, but Michael R. Bloomberg is advancing his climate change agenda behind the scenes with the help of one Democratic state attorney general at a time.
Since its founding in 2017, the billionaire's State Energy & Environmental Impact Center at New York University School of Law has quietly planted climate lawyers — paid by the center — with Democratic attorneys general in nine states and the District of Columbia despite alarm over what Republicans call his "liberal mercenaries."
The next state may be Michigan. A cache of emails obtained by Energy Policy Advocates showed the office of Michigan Attorney General Dana Nessel entering into discussions to bring on a Bloomberg-funded "special assistant attorney general" as her staff considered climate litigation against Exxon Mobil.
David Hayes, executive director of the State Impact Center, "is keenly interested in supporting the MI AG office," Skip Pruss, Michigan special assistant attorney general, said in a June 12 email.
"The IC funds the salaries of 17 Law Fellows who serve as SAAGs in their respective states," said Mr. Pruss, who was not hired via the program. "State AGs recruit and select their own Law Fellows. (Although the program is completely transparent and ethical, it may engender backlash.)"
Deputy Attorney General Kelly Keenan replied, "This is very interesting. I will see about getting something scheduled."
The backlash has come largely from Republicans, who have accused Mr. Bloomberg of bypassing the legislative process and leveraging the power of public prosecutors to crack down on the oil and gas industry. They call it a sign of things to come at the Justice Department if Mr. Bloomberg wins the White House in November.