Tell me what's horrible about this.
In article about Heartland funding by Leo Hickman begins
"Pay no attention to that man behind the curtain," pleaded the Wizard of Oz as Toto revealed the true identity of the man with the big, booming voice to Dorothy and her friends. But it was too late: the illusion was shattered.
And so creates a tone that suggests all that follows is somehow nefarious.
Nestled in this we discover that:
The documents state (pdf) that in January his company ItWorks/IntelliWeather was paid $44,000 to "create a new website devoted to accessing the new temperature data from NOAA's web site and converting them into easy-to-understand graphs that can be easily found and understood by weathermen and the general interested public". A total of $88,000 (pdf) is expected to be handed to Watts for the project by the end of 2012.
Given the "Wizard of Oz" introduction, and the choice of verb "handed" I can only suppose that somehow, we are all supposed to read this and be horrified at the thought that someone who hires ItWorks/IntelliWeather to create a product might pay them. But turning to the specifics actually reported I can't see why I should be horrified.
A website devoted to making NOAA data easy to understand by lay people seems like a good idea. It will take many man-hours to bring it into being. I can't see any thing remotely shocking that Heartland — a private entity– would pay someone to create such a site. The price of creating this seems reasonable relative to what NOAA would pay NOAA staff if they created it. I don't see anything remotely shocking that Heartland would pick a private company rather than hunting around for a faculty member to mooonlight doing non-research and non-teaching efforts to do this. I don't see why anyone would object to Anthony's company which has experience dealing with Weather data and creating websites accessible to the public being Heartland's choice.
Hickman continues, suggesting what might be "bad" about it:
This revelation is potentially damaging to Watts as he has previously laughed off the notion that he is being funded by any corporate- and/or vested-interest group. "AGW proponents seem hell bent on trying to repeat this 'linked to' nonsense at any cost," he wrote last May. "Heh, I've yet to see that check or any from Exxon-Mobil or any other energy or development company. Somebody must be stealing checks out of my mailbox. /sarc – Anthony."
Huh? Why should it be damaging to discover that in May 2011, Anthony said he had not received funding, but later in January 2012, he managed to get someone to fund a project for his company? Moreover, it's clear from the Heartland memo that the funding in 2012 is new. The memo highlights the entry in yellow– indicating this is a new project in 2012.
Is there a rule that Anthony is required to see into the future and know that he will never, ever, ever get funding from Heartland to create a web site? Or that having said he wasn't getting any in May his company can't accept a project over 6 months later?
I admit, we can't yet know whether the proposed web site will turn out to be a hit or a dud. Maybe Mosher could have done a better job– or Zeke– or even some university professor who formed his own company to do this sort of thing. Or maybe NOAA could have done a better job.
Maybe Heartland might be better advised to fund other things– like giving me money to create more scripts so people can bet quatloos on next months temperature anomalies. They haven't done so; I don't suppose they will. I don't even think it's worth proposing the idea to them.
But I don't really see anything horrifying in Anthony's company having obtained funding in January to create a web site. Nor do I find anything horrifying in the notion that the domain name and web site plan hasn't been unveiled instantly. Nor am I horrified that in the past, when Anthony had not gotten funding and was doing what he did for free, he told people that he was doing what he did for free and not because someone had hired him to do it.
To Anthony, I say: Congratulations for convincing Heartland to fund a project that might actually permit the public to have access to better graphics than provided by NOAA and which, at least as described in the shocking memo seems to be perfectly legitimate.
Meanwhile, to others: If someone here can explain to me precisely what is horrible or embarrassing about this project, please do so. Is the problem that Anthony got the funding? Or that access to temperature data is a bad thing? Or that what? Because I can't even begin to guess what is supposed to be horrible about this.
Update for additional info.
I wanted to write and post before I read other reactions. That way, you could read my first reaction. I'll be adding links to posts on the subject:
Bishop Hill includes Anthony's discussion of the funding.
Update 2
I've been asked to prove that everyone knew Heartland published the NIPCC document. Here is the front matter: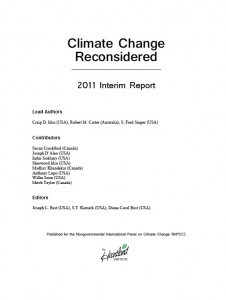 If the "Heartland" logo is too small to detect, click to make larger. Note also, Joe and Dianne Bast work for Heartland. You can find the report here.
Written by lucia.
Comments Closed: You may request comments be reopened by asking Lucia